Nemp - Noch ein Mp3-Player
An intuitive mp3-player with many functions. It is portable and runs without installation - just download, unzip, run. Without permission, Nemp doesn't fiddle with your mp3 files either, but leaves them as they are.
("Noch ein mp3-Player" translates to "Yet another mp3-player".)
Download Nemp

Nemp - Overwiev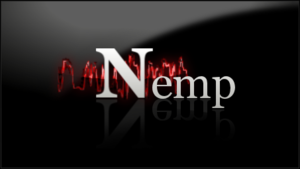 Nemp actually started only as a management tool for my music collection, but in the meantime it has developed into a full-fledged audio player.
In the media library all titles of your music collection are managed. You can browse through it and search and find individual titles very quickly. Actually, I used some insights from my diploma thesis here.
The playlist can be filled with titles from the media library and titles from outside, also mixed with files and web radio stations.
Nemp is portable and immediately ready for use including the media library - even if the external hard disks with Nemp and music collection are connected to other computers.
Default view with Coverflow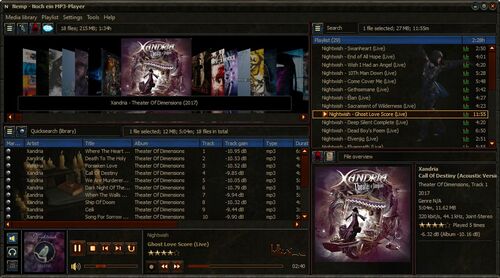 In the default view, all tracks are grouped by album and displayed in a coverflow.
The covers come from the ID3 tag of the music file or from an image file, which somehow seems to belong to the titles - Nemp doesn't rely on special files and file names, but uses its own heuristic, which is correct in very, very many cases. Missing covers can be downloaded automatically from the internet.
Lyrics can also be downloaded from the internet - but this only happens on demand.
The Tag Cloud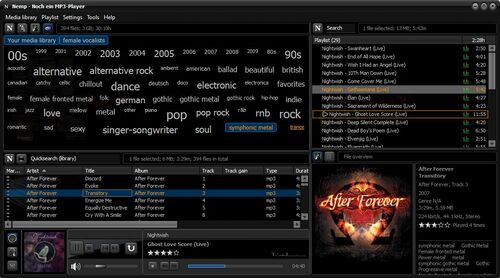 All titles in the media library can also be organized in the form of a tag cloud. Initially, the tag cloud is only formed from the ID3 tags (supplemented by the decade in which the title appeared).
Additional tags can be added to each title manually or automatically (via last.fm). In the tag cloud editor synonyms can be defined (e.g. 90s, 90ies, 90s), and some meaningless tags from the last.fm community can be placed on an ignore list.
Browse by two criteria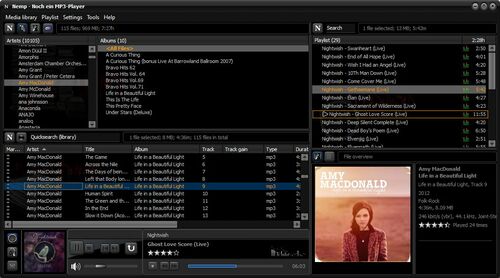 This mode was first available at Nemp - here the media library is prepared according to two freely selectable criteria, e.g. according to artist and album.
Always included is the quick search, which can also correct typos. Or do you know right away how many R, S and T are correct in "Alanis Morissette"? And are you sure that all your Mp3s are correctly tagged? - Exactly.
The Nemp Wizard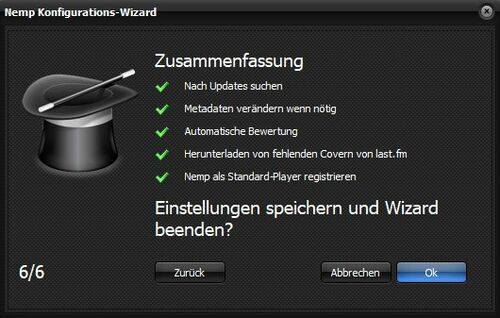 Nemp does not make any changes to the music files without prior permission and does not download anything from the Internet. The player can therefore be tested without any risk.
The Nemp Wizard asks for some useful features at the first start, which can be confirmed or rejected individually.
A lot of further settings can be found in the settings dialog.
The Nemp Web Server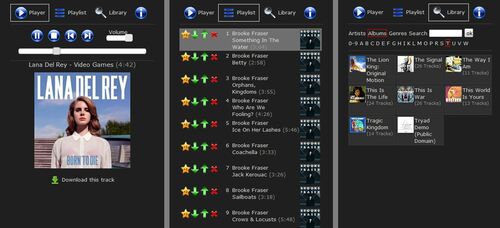 The Nemp web server gives you access to many functions of the player via a web browser - especially the search and browse functions in the media library.
You can restrict access for your party guests so that they can, for example, use their smartphones to request titles for the playlist and prioritise them via a voting system, but cannot start a new title every ten seconds.
If you want to allow this, you can also allow individual tracks to be downloaded. However, this should only happen in a private context.
Headset, Equalizer and Effects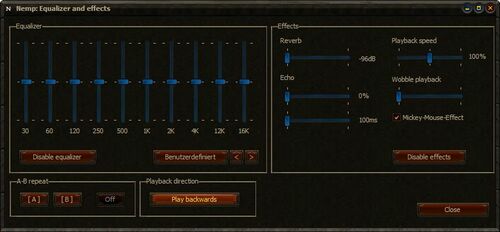 Nemp can play a second title in parallel via a second sound card. This is intended for previewing a song at a party without interrupting the main playback. It doesn't replace professional DJ software, but it's useful.
An equalizer and some effects are also included - but that's really more of a gimmick.
Another gimmick is F8, which acts as a push to talk button to temporarily reduce the volume. With F9 jingles can be played parallel to the main playback.
And if the battery on the laptop weakens, then Nemp starts to wow and flutter. This is actually counterproductive, because it increases the CPU load a bit, but a little fun has to be (and of course you can switch it off in the settings).
The Nemp Party Mode
If the buttons at a party become smaller over time and more difficult to hit, the party mode can be activated. Then not only the buttons are bigger, but also many functions are locked - like " delete playlist ".
Another gimmick is to set a time for a birthday song. Nemp then interrupts the playlist, adds a countdown title if necessary, and punctually at 0 o'clock (or whenever) the previously selected song is played. - Happy Birthday!
As this concept may not be known everywhere: In germany, we often "ring in a birthday" (we call it "reinfeiern"), just like in the New Year. - The party starts on the evening before the actual birthday date. At midnight, everybody sing "Happy Birthday", gifts are handed over, and then the party goes on ...
The Nemp API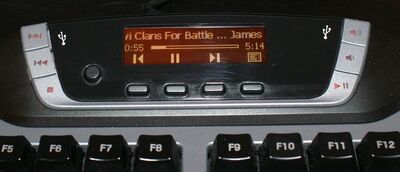 Nemp is equipped with a programming interface, which makes it possible to read out some information from the player, as well as simple control. This can be used to implement other tools or programs, such as a small app for a keyboard display. A corresponding app for the Logitech G15 is available at Nemp.
But of course the usual multimedia keys work on every keyboard.
File formats and metadata
Nemp plays pretty much all common audio formats - mp3, ogg, flac, ape, wav, wma, midi, ... In case of doubt further formats can be added by the plugin system (see the addons to the bass.dll, on which Nemp is based).
Also the common playlist formats like m3u, m3u8, pls, asx, wax.
Metadata: ID3 (v1, v1.1, v2.2, v2.3, v2.4), Ogg-Vorbis, Flac-Metadata, ApeV2 and restricted WMA (read-only).
Full Unicode support goes without saying.
System requirements
Windows 7, 8, 10
30mb free disk space,
plus approx. 10mb/10.000 music files for the media library
Since version Nemp 4.10, Windows NT, 2000, XP, Vista are not supported any longer. It may work anyway, or restricted in some way, but I'm not testing for these old OS any more.
Nemp on Facebook

Nemp has its own Facebook fanpage.
The first 100 Likes will get the next update for free. ;-)
To the Nemp fanpage.
Source code
Nemp can be used, modified and copied under the terms of the GNU General Public Licence (GPL).
To compile the source code, you need Delphi 2009 (or later) from Embarcadero. Earlier versions of Delphi (like Turbo Delphi 2006) will not work, as Nemp makes extensive use of Unicode.
Currently (Nemp 4.9.0) the code is optimized for Delphi 10.2 (Tokyo). The Community Edition can be downloaded free of charge from the Embarcadero website.
Additionally some third-party components are used, which can be found in the preliminaries directory within the sourcecode archive. You need to install them first, before you can compile Nemp.
If you want to contribute: Nemp on GitHub.